Matthew Hahn Adapts Story of the "Robben Island Bible" for the Stage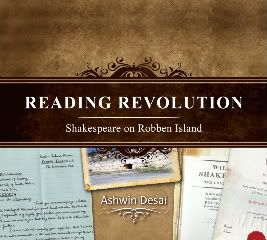 The story of the Robben Island copy of Shakespeare's Complete Works, dubbed the "Robben Island Bible", has been developed for the stage by theatre director and lecturer Matthew Hahn.
At a recent event at London's Southbank Centre, Hahn presented a staged reading from the script, introduced by Ashwin Desai, author of Reading Revolution: Shakespeare on Robben Island.
The Robben Island Bible is currently on-loan to the British Museum as part of an exhibition entitled "Shakespeare: Staging the World".
The liberation leaders and activists who served on Robben Island prison came alive on a London stage last week in a staged reading of The Robben Island Bible – inspired by a disguised copy of the Complete Works of Shakespeare – that highlighted the power and resonance of the South African story.

The reading of the script by Matthew Hahn, an American-born playwright and drama lecturer who has interviewed eight of the surviving Robben Island prisoners, took place at the Southbank Centre, one of the world's leading entertainment centres, in an event co-sponsored by Brand South Africa.
Book details
Reading Revolution: Shakespeare on Robben Island by Ashwin Desai
Book homepage
EAN: 9781868886838