Meet Ashwin Desai, Author of Reading Revolution, at the 2012 Open Book Festival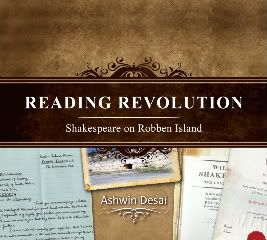 The second edition of the Open Book Festival takes place from 20-24 September in and around The Fugard Theatre in Cape Town's CBD.
Unisa Press will be there in the form of Ashwin Desai, author of Reading Revolution: Shakespeare on Robben Island, who will be participating in two events on Saturday, 22 September.
See you there!
Saturday, 22 September
THE WASHINGTON DISSENSUS? TIM COHEN, HEIN MARAIS AND ASHWIN DESAI
Venue: Fugard Ground
Time: 12:00 PM to 1:00 PM
Price: R30
Ashwin Desai, Tim Cohen and Hein Marais discuss the economics of transformation. Chaired by Andre Marais.
ASHWIN DESAI – READING REVOLUTION: SHAKESPEARE ON ROBBEN ISLAND
Time: 2:00 PM to 3:30 PM
Venue: Fugard Theatre
Cost: Free Event
Ashwin Desai, author of Reading Revolution: Shakespeare on Robben Island, talks to Verne Harris and Marcus Solomon, chaired by Sibongiseni Mkhize
Book details
Reading Revolution: Shakespeare on Robben Island by Ashwin Desai
Book homepage
EAN: 9781868886838